Expansion tank
SERIALNUMBER Product Model SpecificationVolume (L) VOUME Maximum working pressure (bar) Precharge pressure (bar) H (mm) D (mm) Interface size CONNECTIONSIZE1PZG-002281.5271110 G3/4 '' 2PZG-003B381.5230158 G3/4 '' 3PZG-005581.5296158 G3/4 '' 4PZG-008B881.5316204 G3/4 '' 5PZG-
---
---
Product details
---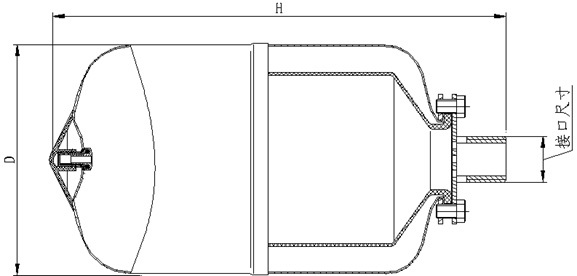 | | | | | | | | |
| --- | --- | --- | --- | --- | --- | --- | --- |
| SERIAL NUMBER | SPECIFICATION | VOUME | Maximum working pressure(bar) | Precharge pressure(bar) | H(mm) | D(mm) | CONNECTION SIZE |
| 1 | PZG-002 | 2 | 8 | 1.5 | 271 | 110 | G3/4'' |
| 2 | PZG-003B | 3 | 8 | 1.5 | 230 | 158 | G3/4'' |
| 3 | PZG-005 | 5 | 8 | 1.5 | 296 | 158 | G3/4'' |
| 4 | PZG-008B | 8 | 8 | 1.5 | 316 | 204 | G3/4'' |
| 5 | PZG-012 | 12 | 8 | 1.5 | 315 | 280 | G3/4'' |
| 6 | 5287374 | 18 | 8 | 1.5 | 474 | 280 | G1'' |
| 7 | 5287373 | 24 | 8 | 1.5 | 508 | 280 | G1'' |
Scope of application:
1. The expansion tank is applicable to the air cooled (hot) water unit and water cooled (hot) water unit systems of air conditioners;
2. It is also applicable to other areas where a certain amount of water needs to maintain pressure.
Explain:
1. The rubber bladder in the expansion tank is made of high-quality rubber, non-toxic;
2. If the rubber bladder is damaged, it is not necessary to replace the entire expansion tank, just replace it with a new rubber bladder, which can be replaced many times.
Purpose:
The pressure of water in various air conditioning systems is regulated by the pre charge pressure through the expansion or contraction of the rubber bladder in the steel tank.